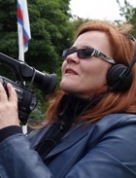 Greetings!
Thank you for visiting me here.
Hoping for your support to my work and dream to continue...
About Me:
My Life Story in Short:
Born 1957 in Tórshavn, Faroe Islands. Moved to Denmark in 1976.
Graduated 1982 as a film director from the National Danish Film School.

Filmography:

BUDAM: LAST SONG. Music video, 5 min. 2011.

MEMORIES FROM AN APARTMENT. A film installation (5 short films). 2011.

TRACES GROW OUT OF WORDS. Documentary, 75 min. 2010.

A LINE A DAY MUST BE ENOUGH! Documentary, 58 min. 2008.

NO ONE CAN ACHIEVE PERFECTION. Documentary, 85 min. 2008.

REGIN SMIÐUR - UNE DANSE BALLADE. Dance film, 5 min. 2004.

BYE BYE BLUE BIRD. Feature film, 85 min. 1999.

THE MAN WHO WAS ALLOWED TO LEAVE. Short feature, 58 min. 1995.

ATLANTIC RHAPSODY. Feature film, 75 min. 1989.

HANNIS. Children's film, 30 min. 1992.

REGIN ÚTISETI. Docu-art film. 45 min. 1987.

EITT KVØLD Í HAVN (Tórshavn by Night). Short film. 1984.

Besides: Various tv-programs and music videoes.
My Films:
Traces Grow Out of Wor...

A Line A Day Must Be E...

No One Can Achieve Per...
FLAGS:
RATINGS: This film needs help to be rated.
Would you rate it now?
Read reviews about this film
WRITTEN AND GIFTED BY THE SUPPORTIVE AUDIENCE.