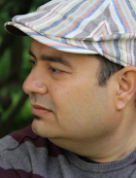 Greetings!
Thank you for visiting me here.
Hoping for your support to our work and dream to continue...
About Me:
Welcome to our Film!
Ra Atelier is a one-stop creative solutions shop with young, dynamic pool of creative professionals in the area of Audiovisual & Marketing.

ESART (School of Arts, Castelo Branco) offers two areas of training, Music and Design, with four degrees courses: Communication Design and Audiovisual Production, Fashion and Textile Design, Interior Design and Equipment and Music.
My Films:
Olive Oil Flavoured wi...
FLAGS:
RATINGS: This film needs help to be rated.
Would you rate it now?
Read reviews about this film
WRITTEN AND GIFTED BY THE SUPPORTIVE AUDIENCE.