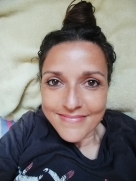 Greetings!
Calling forth the Life Force in You....KaKaram!
About Me:
Previous Endeavors:
UPROOTED (2006) is my first feature-length documentary, in which I used my experience on the ground as a non-violent activist within the Free Palestine movement to weave a story about resistance and the right to resist. In that context, I interviewed several figures of resistance, from the ones who used armed struggle to peaceful protests, such as Ahmed Ben Bella, Leila Khaled and Noam Chomsky.
This film helped me create what has since become my modus operandi: weaving stories by living them in the flesh...
What is Creativity?

WEAVING STORIES BY LIVING THEM IN THE FLESH....
Present Interests:
Healing the Self...Healing the Whole
Bringing Ayahuasca to conflict-zones...
Kundalini Risings...
Shamanism
The Soul of the Free Amazigh People
K for Kurdistan
Yoga
Redefining Sacred Prostitution
Aromatherapy
Capoeira
Alchemy
Current Project/Need:
Une Femme Libre / A Free Woman (working-title)

For the longest time I have wanted to make a docudrama about the Berber people of North Africa, infused with the Kahina legend, Queen of the Berbers. Their very name is a variation of the Latin word for Barbarians; they were for the most part hostile to the Arab and Roman invasions, and settlements of their territory. It must be noted that while the name "Berber" endured, from the Arab through the French colonization of North African lands, they, the Berber people identify themselves in their language as "Imazighen" or "Amazigh" in the singular: "free people" and/or "noble people".

Amazigh people traditionally inhabited a broad swath of territory, ranging from Morocco to Egypt, and extending southward into the interior of the Sahara. Today, while still present in most of their ancestral territory, they are concentrated in Morocco and Algeria.

This project brings together a passion of mine: indigenous people, with their connection to the land and why they are and have been under attack across the globe Moreover, I chose the Amazigh people as I lived in North Africa---my grandmother and great-grandmother on my father's side were Tunisian Berbers; and because of their women. It is they, who kept the Libyco-Berber language alive since their people fled to the Sahara desert in the fourth century A.D. They kept the writing alive for more than thirteen centuries, in the face of several conquests and attempts to submit them culturally and otherwise.

I still remember my great-grandmother Salha...tall, proud with piercing blue eyes and long white hair. How scared I was of seeing her in the flesh! She towered over me and she had a twinkle in her eyes whenever she realized I was really that scared of her. A commanding presence, Salha vibrated feminine strength in a society where it was the men who were bred for power and expected to have such charisma. Indeed, Tunisian society in the beginning of the 20th century was not exactly the kind of space where women could feel and be so powerful.

While I never jumped on my great-grandmother's Salha's lap or her daughter's, my grandmother Selma, they were in fact more serpent-like creatures whose venom could be venomous or medicinal, your choice, I always felt in my core that when I'd come to be lost in my travels across foreign lands, I could always draw strength from both of them. I felt their presence in my lineage, holding me together, rooting me to the earth.

This project is still in the early stages of planning and research, but is something that, Insha'allah, I hope to bring to fruition in the coming years.
My Life Story in Short:
Born in Paris, I spent my childhood moving among three continents, following my parents through the vagaries of their careers. Besides the repetitive physical dislocation, there was the issue of adapting to the very different cultural and religious points-of-view of my parents, which was a challenge in its own right. As difficult as all of this was at times, I found that the travels and nomadic life gave me a more conscious perspective on life, bon gré mal gré, and it taught me to be and remain open to the new with the least judgment.

When I was sixteen years old, I auditioned for the University of Ottawa's student television; I got the gig and I started hosting the weekly French student show a month later. I liked TV immediately, instinctively. I felt very comfortable in front of a camera and in studio, even more so when I got to produce reports or short stories.

Threads, story threads, fascinate me; the different directions that a story can take depending on how it is presented and edited intrigue and excite me. Although I made foolish mistakes back then in Canada, shifting from egocentrism to sensationalism, my passion to tell a story using a multimedia approach was growing. The "click" or wake up call happened at the beginning of 2003, when I realized that the Message was the most important aspect of journalism, filmmaking, and storytelling. I was holding an internship with Al-Jazeera Satellite Channel in NYC, as part of my MA program in Near Eastern Studies at NYU. Most of my time was spent covering the UN Security Council talks on the War on Iraq, a few months before its March 20, 2003 " official launch" (the unofficial one ongoing for years: the US has been bombing Iraq since 1991), and what I witnessed behing closed doors in the corridors of power made me realize that I wanted to inspire people to FEEL the pains and horrors that other human beings endure in their name. I wanted to promote TRUTH in other words.
Fortunately (but I didn't feel lucky at the time) and due to my not being able to keep denying my grief and anger in public, I did not finish my internship, rather I found myself bouncing back within a week, but this time as an assistant to an independent documentary filmmaker. Life is a great ride when you want to be!

I learned the basics, the behind-the-screen life of an indie filmmaker, from fundraising to creative writing, and this experience culminated in my first "real" professional contract in that field, a Martin Scorsese Presents production. The end of that three-month contract led to my starting-out "solo" in the documentary business. Since January 2004, I have rarely looked back, as I become creatively restless.

Bartering is central to my one-woman show, from volunteering for the International Women's Peace Service while filming Uprooted (2006) to trading video ads for a friend in exchange for the opportunity to film whales.

I like telling stories, especially editing them even more so than recording them. In my life experience, the "recording script" is out of my hands: the life flow decides and I respond. The editing and interpretation, however, are my responsibility; my script can move and change with me organically in my imagination, and receptivity, and heart to leave me with a message, and lesson, of value.
My Films:

FLAGS:
RATINGS: This film needs help to be rated.
Would you rate it now?
Read reviews about this film
WRITTEN AND GIFTED BY THE SUPPORTIVE AUDIENCE.