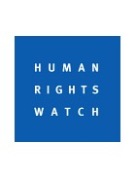 Human Rights Watch is dedicated to protecting the human rights of people around the world. We stand with victims and activists to prevent discrimination, to uphold political freedom, to protect people from inhumane conduct in wartime, and to bring offenders to justice. We investigate and expose human rights violations and hold abusers accountable. We challenge governments and those who hold power to end abusive practices and respect international human rights law. We enlist the public and the international community to support the cause of human rights for all.
About Me:
Association (people/orgs):
Board of Directors:

James F. Hoge, Jr., Chair [Bio]

Susan Manilow, Vice-Chair

Joel Motley, Vice-Chair

Sid Sheinberg, Vice-Chair

John J. Studzinski, Vice-Chair

Bruce J. Klatsky, Treasurer

Bruce Rabb, Secretary

Karen Ackman

Jorge Castañeda

Tony Elliott

Hassan Elmasry

Michael G. Fisch

Michael E. Gellert

Betsy Karel

Wendy Keys

Robert Kissane

Joanne Leedom-Ackerman

Oki Matsumoto

Barry Meyer

Pat Mitchell

Joan R. Platt

Amy Rao

Neil Rimer

Victoria Riskin

Amy L. Robbins

Shelley Rubin

Kevin P. Ryan

Jean-Louis Servan-Schreiber

Darian W. Swig

John R. Taylor

Catherine Zennström

Emeritus Board

Lisa Anderson

Robert L. Bernstein

Founding Chair, 1979-1997

David M. Brown

William D. Carmichael

Jonathan F. Fanton

Chair, 1998-2003

Vartan Gregorian

Alice H. Henkin

Stephen L. Kass

Josh Mailman

Samuel K. Murumba

Marina Pinto Kaufman

Jane Olson

Chair, 2004-2010

Peter Osnos

Kathleen Peratis

Bruce Rabb

Sigrid Rausing

Orville Schell

Gary Sick

Malcolm B. Smith

Africa

Jonathan Fanton, Chair

Daniel Bach

Suliman Baldo

Fareda Banda

Innocent Chukwuma

Wendy Keys

Samuel Murumba

Muna Ndulo

Louis-Marie Nindorera

Peter Rosenblum

John Ryle

Nick Shaxson

Darian Swig

Arnold Tsunga

L. Muthoni Wanyeki

Michela Wrong

Americas

Lloyd Axworthy, Chair

Marina Pinto Kaufman, Vice-Chair

Julien Studley, Vice-Chair

Roland Algrant

Roberto Alvarez

Cynthia Arnson

Carlos Basombrio

Peter D. Bell

Marcelo Bronstein

Paul Chevigny

Roberto Cuellar

Miguel Diaz

John Dinges

Denise Dresser

Nancy Englander

Tom J. Farer

Myles Frechette

Alejandro Garro

Peter Hakim

Ronald G. Hellman

Andy Kaufman

Susanna Leval

Michael Maggio

Kenneth Maxwell

Jocelyn McCalla

David Nachman

Robert Pastor

Bruce Rabb

Michael Shifter

George Soros

Rose Styron

Javier Timerman

Horacio Verbitsky

George Vickers

Alex Wilde

Asia

Joanne Leedom-Ackerman, Chair

Orville Schell, Vice-Chair

Maureen Aung-Thwin

Edward J. Baker

Harry Barnes

Robert L. Bernstein

Jagdish Bhagwati

Jerome Cohen

John Despres

Clarence Dias

Mallika Dutt

Merle Goldman

Jonathan Hecht

Paul Hoffman

Sharon Hom

David Hulse

Rounaq Jahan

Perry Link

Andrew J. Nathan

Yuri Orlov

Bruce Rabb

Balakrishnan Rajagopal

Victoria Riskin

Barnett Rubin

James Scott

Frances Seymour

Steven Shapiro

Eric Stover

Ko-Yung Tung

Europe & Central Asia

Kati Marton, Chair

Alice H. Henkin, Vice-Chair

Henri Barkey

Gerhart Baum

Stephen Del Rosso

Phyllida Earle

Felice Gaer

Michael Gellert

Jeri Laber

Walter Link

Masha Lipman

Helena Luczywo

Jean-Paul Marthoz

Sarah E. Mendelson

Karl Meyer

Jane Olson

Arjan Overwater

Can Paker

Hannah Pakula

Colette Shulman

Leon Sigal

Malcolm Smith

George Soros

Ruti Teitel

Mark von Hagen

Patricia M. Wald

Joanna Weschler

Catherine Zennström

Middle East North Africa

Hassan Elmasry, Co-Chair

Kathleen Peratis, Co-Chair

Bruce Rabb, Vice Chair

Gary G. Sick, Vice Chair

Gamal Abouali

Wajeha Al Huwaider

Ghanim Alnajjar

Lisa Anderson

Shaul Bakhash

Asli Bali

M. Cherif Bassiouni

David Bernstein

Robert Bernstein

Nathan Brown

Paul Chevigny

Ahmad Deek

Mansour Farhang

Fadi Ghandour

Aeyal Gross

Amr Hamzawy

Rita E. Hauser

Salah al-Hejailan

Prince Moulay Hicham

Robert James

Mehrangiz Kar

Edy Kaufman

Marina Pinto Kaufman

Ann M. Lesch

Robert Malley

Ahmed Mansoor

Stephen P. Marks

Rolando Matalon

Habib Nassar

Abdelaziz Nouaydi

Nabeel Rajab

Victoria Riskin

Charles Shamas

Sid Sheinberg

Mustapha Tlili

Andrew Whitley

James Zogby

Ahmed Zuaiter

United States

Catherine Albisa

Preeta Bansal

Ann Beeson

Jeffrey Bleich

Stephen Bright

Tanya Coke

David Cole

Mike Farrell

Vanita Gupta

Lulie Haddad

David Keller

Wendy Patten

Bill Quigley

Bruce Rabb

Steven Shapiro

Alexandra Stanton

Dorothy Thomas

Robin Toone

Children's Rights

Robert G. Schwartz, Chair

Bernardine Dohrn, Vice-Chair

Mie Lewis, Vice-Chair

Goldie Alfasi-Siffert

Ishmael Beah

Mark Allen Belsey

Michael Bochenek

Rachel Brett

Pam Bruns

Lucinda Franks

Judy Gaynor

Alice Henkin

Kathleen Hunt

Eugene Isenberg

Janet Kagan

Sheila B. Kamerman

Rhoda Karpatkin

Miriam Lyons

Joy Moser

Elena Nightingale

Valerie Pels

Wendy Smith Meyer

Judith Greenberg Seinfeld

Javier Stauring

Anne Studzinski

Ramona Sunderwirth

Tony Tate

Yodon Thonden

Lisa Woll

Roland Algrant,

Vice-Chair (1998-2008)

Lesbian, Gay, Bisexual and Transgender Rights

Alice M. Miller Co-Chair

Bruce Rabb Co-Chair

Katherine Acey

Faisal Alam

Jeff Anderson

Cynthia Brown

Mauro I. Cabral

Randall Chamberlain

Ken Choe

Paisley Currah

Philip Dale

Julie Dorf,

Marta Drury

Jennifer Gaboury

Hassiba Hadj-Sahraoui

James C. Hormel

Richard Kim

Ronald Lwabaayi

Thom Lynch

Carmelyn Malalis

Michael Marshall

Andrew Park

Kathleen Peratis

Svend Robinson

Alejandra Sardá

Sid Sheinberg

Ann Snitow

Michael Wald

Stephen Whittle

Riki Wilchins

Marcy Wilder

Reid Williams

Zonibel Woods

Terrorism/Counterterrorism

Ann Beeson

David Cole

Anthony Dworkin

Bruce Hoffman

Sidney Jones

Ruti Teitel



Women's Rights

Ellen Chesler, Chair

Mahnaz Afkhami

Helen Bernstein

Cynthia Brown

Beverlee Bruce

Charlotte Bunch

Rebecca J Cook

Joanne Csete

Julie Dorf

Babeth Fribourg

Adrienne Germain

Nancy Hechinger

Marina Pinto Kaufman

Stephen Lewis

Lorraine Loder

Joyce Mends-Cole

Yolanda T. Moses

Samuel K. Murumba

Marysa Navarro-Aranguren

Sylvia Neil

Martha Nussbaum

Susan Osnos

Kathleen Peratis, Chair Emerita

Marina Pisklakova

Lynn Povich

Bruce Rabb

Cynthia Ryan

Pascaline Servan-Schreiber

Lorraine Sheinberg

Domna Stanton

Rita Wasserstein Warner

Senior Management:

Kenneth Roth, Executive Director
Michele Alexander, Deputy Executive Director, Development & Outreach

Carroll Bogert, Deputy Executive Director, External Relations

Iain Levine, Deputy Executive Director, Program



Walid Ayoub, Information Technology Director

Clive Baldwin, Senior Legal Advisor

Emma Daly, Communications Director

Alan Feldstein, Associate General Counsel

Barbara Guglielmo, Director of Operations (Acting)

Peggy Hicks, Global Advocacy Director
Dinah PoKempner, General Counsel

Aisling Reidy, Senior Legal Advisor

James Ross, Legal & Policy Director
Joe Saunders, Deputy Program Director



Program Directors

Brad Adams, Asia

Joseph Amon, Health and Human Rights
John Biaggi, International Film Festival
Peter Bouckaert, Emergencies
Rachel Denber, Europe & Central Asia (Acting)
Richard Dicker, International Justice

Boris Dittrich, Lesbian, Gay, Bisexual & Transgender Rights (Acting)
Bill Frelick, Refugee Policy
Arvind Ganesan, Business & Human Rights
Liesl Gerntholtz, Women's Rights
Steve Goose, Arms
Alison Parker, United States
Rona Peligal, Africa (Acting)
José Miguel Vivanco, Americas
Lois Whitman, Children's Rights

Sarah Leah Whitson, Middle East & North Africa



Advocacy Directors

Philippe Bolopion, United Nations

Jean-Marie Fardeau, Paris

Wenzel Michalski, Berlin

Lotte Leicht, European Union

Tom Malinowski, Washington, DC

Tom Porteous, London

Juliette de Rivero, Geneva
My Life Story in Short:
Human Rights Watch is a nonprofit, nongovernmental human rights organization made up of more than 280 staff members around the globe. Its staff consists of human rights professionals including country experts, lawyers, journalists, and academics of diverse backgrounds and nationalities.

Established in 1978, Human Rights Watch is known for its accurate fact-finding, impartial reporting, effective use of media, and targeted advocacy, often in partnership with local human rights groups. Each year, Human Rights Watch publishes more than 100 reports and briefings on human rights conditions in some 90 countries, generating extensive coverage in local and international media.

With the leverage this brings, Human Rights Watch meets with governments, the United Nations, regional groups like the African Union and the European Union, financial institutions, and corporations to press for changes in policy and practice that promote human rights and justice around the world.

Human Rights Watch began in 1978 with the creation of Helsinki Watch, designed to support the citizens groups formed throughout the Soviet bloc to monitor government compliance with the 1975 Helsinki Accords. Helsinki Watch adopted a methodology of publicly "naming and shaming" abusive governments through media coverage and through direct exchanges with policymakers. By shining the international spotlight on human rights violations in the Soviet Union and Eastern Europe, Helsinki Watch contributed to the dramatic democratic transformations of the late 1980s.

Americas Watch was founded in 1981 while bloody civil wars engulfed Central America. Relying on extensive on-the-ground fact-finding, Americas Watch not only addressed abuses by government forces, but applied international humanitarian law to investigate and expose war crimes by rebel groups. In addition to raising its concerns in the affected countries, Americas Watch also critically examined the role played by foreign governments, particularly the United States, in providing military and political support to abusive regimes.

In rapid succession in the 1980s, Asia Watch (1985), Africa Watch (1988), and Middle East Watch (1989) were added to what was then known as "The Watch Committees." In 1988, the organization formally adopted the all-inclusive name Human Rights Watch.

New human rights challenges in the 1990s led to important innovations in the work of Human Rights Watch. Its reporting on the 1991 Persian Gulf War for the first time addressed violations of the laws of war in bombing campaigns. Advocacy targets were expanded to give greater attention to the United Nations and regional bodies such as the European Union. "Ethnic cleansing" and genocide in Rwanda and the Balkans prompted the need for both real-time reporting of atrocities and in-depth documentation of cases to press for international prosecutions, which became possible for the first time in the 1990s. Human Rights Watch has supported and critiqued the international tribunals for the former Yugoslavia and Rwanda, sought prosecutions of abusive leaders including Augusto Pinochet of Chile and Hissene Habre of Chad, and played a prominent role in the drafting of the Rome Statute to create the International Criminal Court.

At the same time, Human Rights Watch broadened and strengthened its work on the rights of women, children, refugees, and migrant workers, bringing a human rights perspective to such issues as domestic violence, trafficking, rape as a war crime, and child soldiers. The organization found new ways to investigate rights abuses in closed societies such as Saudi Arabia and North Korea. It helped spotlight previously ignored topics such as the rights of gays and lesbians. It examined the international arms trade and the role of business in human rights, producing ground-breaking studies, for instance, on rights abuses in the oil, gold, and meatpacking industries.

Human Rights Watch in 1997 shared in the Nobel Peace Prize as a founding member of the International Campaign to Ban Landmines, and it played a leading role in the 2008 treaty banning cluster munitions.

The 21st century has brought new challenges. The September 11, 2001 attacks and their aftermath highlighted the need for new forms of pressure on terrorist groups and their supporters and close monitoring of counterterrorism laws, policies, and practices that infringe upon basic human rights. The HIV/AIDS pandemic led to the creation of a Human Rights Watch program devoted to human rights and health.

Human Rights Watch is increasingly applying its research methodology to economic, social, and cultural rights, particularly in the areas of education and housing. Human Rights Watch has also begun using statistical research, satellite photography, and bomb-data analysis, among other new methodologies. Combining its traditional on-the-ground fact-finding with new technologies and innovative advocacy keeps Human Rights Watch on the cutting edge of promoting respect for human rights worldwide.


My Films:
Hellish Work: Tobacco ...

Right to Relief: Palli...

Where is the Justice? ...

Tiananmen: China's Unh...

Fingers to the Bone: C...

To Protect & Serve: Po...

Rain of Fire: White Ph...

In Silence: Maternal M...

Under Cover of War: Ha...

Protecting Civilians i...

Confronting Evil: Geno...

Dignity Overdue: Decen...
FLAGS:
RATINGS: This film needs help to be rated.
Would you rate it now?
Read reviews about this film
WRITTEN AND GIFTED BY THE SUPPORTIVE AUDIENCE.