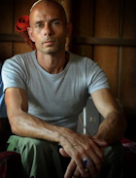 Welcome to the Source Project
I hope you like some of the films I have been making over the last couple of years, these are just a few of many. Most of my work is self funded and has been produced in an attempt to stimulate conciseness about some of the most pressing issues effecting society and our environments.

For more information, please go to www.thesourcefilm.org or www.thesourceimage.com.

Thank you.
About Me:
My Life Story in Short:
After ten years of working as a photographer and film maker in what is fashionably known as 'development', I have finally come to the realisation that much of what I was involved in was little more than managed poverty. I started to realise that I was becoming a part of that system and as I looked around me and interacted with media, development, photographers and filmmakers, began to understand that it is an industry like any other. I began to question the work I was doing and the absolute disconnect between those who commissioned me and those I was there to document.

The second green revolution is a perfect example of this disconnection as our global media focus primarily on a failed industry-driven model of agriculture. Recently, the UN has published two reports, both of which come to the conclusion that to sustain our environment and our food security we need to move away from these input-intensive systems of agriculture. The source project is about using media to engage people in some of the many issues we need embrace. Telling stories from people who are not driven by anything more than compassion moves us away from the traditional confrontational format, which does little more than foster an overwhelming sense of helplessness.

I don't really know where all this is going but I felt I needed to change and begin doing something to re-connect to what we are about to lose. This is all very much work in progress.
The Source Project
Because most of my films are self funded, I have the time to travel out into the field, I have time to really meet people, talk to people, understand the environment in which the issues exist. Most film makers, needing to pay rent or just survive in an economically heavy society, do not have the luxury of time. If you are paid for three days to shoot a film, you shoot for three days and move on to the next job. It is almost impossible to truly understand these complex issues in this short time period. I live out of a bag, one bag clothes and one with the camera. I move around the place, living in the area I am making a film, a week or two will be spent interviewing and filming the issue before heading off to a guest house to edit. This is how it is possible to get the real story, immerse yourself in the environment and the people affected by their changing environment. This is not a luxury to work this way, it is a necessity and therefore a compromise to the way you live and the exceptions you have in life,
My Films:
The Value of Land Part...

The Value of Land Part...

Not Such a Green Revol...

The Value of Land Part...

The Value of Land Part...

A Natural System and A...

Freedom of Food and th...

Land, Life and Justice...
FLAGS:
RATINGS: This film needs help to be rated.
Would you rate it now?
Read reviews about this film
WRITTEN AND GIFTED BY THE SUPPORTIVE AUDIENCE.