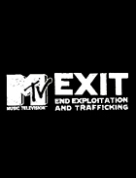 Fight human trafficking and put an end to modern slavery
We're a campaign working to end human trafficking and exploitation by raising awareness, promoting positive behavior change, and driving social action.
About Me:
About MTV Exit
MTV EXIT is a campaign about freedom -- about our rights as human beings to choose where we live, where we work, who our friends are, and who we love. Most of us take these freedoms for granted, but hundreds of thousands of people throughout the world have had these basic human rights taken away. They are victims of trafficking - modern-day slaves -- and criminals have forced, defrauded, or coerced them into various forms of labor, or prostitution.

MTV EXIT aims to increase awareness and prevention of human trafficking through television programs, online content, live events, and partnerships with anti-trafficking organizations.

The UN's International Labor Organization estimates that worldwide about 2.5 million people are victims of trafficking (ILO) Over half of these people are in Asia and the Pacific (ILO)

Criminals earn an estimated US$10 billion every year through buying and selling human beings (UN)

Check out this site to learn more about trafficking and how you can get involved in the fight against trafficking. Watch or download our celebrity-presented documentaries as well as the short films and promos, plus get information on live events we are producing.

To find out more about trafficking please go to the trafficking section and for facts of individual countries please see our map.

To find out more about the campaign please contact us at info@mtvexit.org

Join the fight to End Exploitation and Trafficking.
Take action against human trafficking
Every day people are being exploited through trafficking.

Every day criminals profit while their victims suffer.

If you're outraged or have been affected by trafficking, you can do something to help.

Join the fight to end exploitation and trafficking!

Steps to take:

If you know or see a domestic worker that is being abused by their employer then it is your responsibility to act. Inform an anti-trafficking organization and the police.

Consume responsibly, get involved and find out as much as you can about where the products you buy come from so that your money doesn't go to enslave people.

If you are paying for sex, it is your responsibility to know whether that person is or isn't a victim of trafficking. If you think she is, you need to take action. If you know someone who is paying for sex make sure they understand their responsibilities

Raise awareness - download MTV EXIT videos and get materials from a local anti-trafficking organization. Screen the videos and distribute anti-trafficking materials at events, around your town, school, and/or youth group. At sports events, nightclubs, bars — just get it out there. Start a group with your friends and get them to help. Forward this link to your friends so they can sign up too.

Fundraise - this could be events in a bar, nightclub with music etc. Charge a fee on the door and donate to a local organization, which helps trafficking victims. Think up your own, be creative.

Get in touch with a local organization and find out what your local and national government is doing. See how you can help change the situation in your country.

Victim assistance - this is a tough thing to do and might involve some training but maybe you can volunteer on SOS Hotlines or create a network to help trafficking victims back into the community.

Create - Talk to friends, teachers etc and come up with your own ideas of how to combat trafficking.

For more ideas on how you can take actions against human trafficking, visit open source activism.

Write to tell us what you are doing so we can share your ideas and actions with others! Contact the MTV EXIT Campaign at info@mtvexit.org
My Films:
Tonight Is Your Night ...

Enslaved: An MTV EXIT ...

Rise: A Tough Ascent (...

MTV EXIT & RADIOHEAD -...

Intersection: An MTV E...

Traffic:Asia Pacific: ...

Goodnight, Travel Well...

Invisible slaves: An M...

Sold: An MTV EXIT Spec...

Choose Safe Migration ...
FLAGS:
RATINGS: This film needs help to be rated.
Would you rate it now?
Read reviews about this film
WRITTEN AND GIFTED BY THE SUPPORTIVE AUDIENCE.