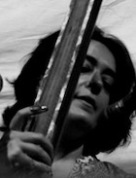 Greetings!
Thank you for visiting me here.
Hoping for your support to my work and dream to continue...
About Me:
My Life Story in Short:
( Extracted from Wikipedia )
Ref URL : http://en.wikipedia.org/wiki/Shabnam_Virmani

Shabnam Virmani, is a documentary film maker and artist in residence at the Srishti School of Art, Design and Technology in Bangalore since 2002.Co-founder of the Drishti Media Arts and Human Rights collective, she has directed several documentaries in close partnership with grassroots women 19s groups in the country, some of which have won awards. In 2002, she co-directed an award-winning community radio program with the Kutch Mahila Vikas Sangathan in Gujarat.

Virmani began her career as a sub-editor in The Times of India in Jaipur in 1987. A few months later she made journalistic history when she filed the story on what happened in Deorala village, Rajasthan. "The news of how a young widow, Roop Kanwar, was burnt on the funeral pyre of her husband led to the ban on Sati being reinforced and this turned out to be a watershed in the women's liberation movement in the country.Virmani might have made journalistic history but she decided to move away from the print media. "Perhaps if I had been a feature writer, things might have been different. But the desk job was stultifying," she says. The next year she won a scholarship to do a Masters degree in Development Communication at the Cornell University, United States. She tried her hand at film making there and her 20-minute student film "Have a Nice Day," was a personal narrative of her alienation, as an Indian student trying to come to terms with North American culture. Returning to India the next year, she learnt the craft of film making. She said "I was keen to engage in communication that would break down literacy barriers. Films seemed to be the best way of doing that."

Shabnam's camera has consistently and evocatively captured the suffering and the dignity of the rural women of India. 'When Women Unite' for instance, portrayed the successful anti-liquor agitation by rural women in Andhra Pradesh while in Andhra Pradesh while 'Tu Zinda Hai' depicted the success of women activists in Madhya Pradesh. In a series of eight 1 minute films,which were telecast on major television networks in India,Bol conveyed the agony of victims of domestic violence and succeeded in spreading awareness.

Shabnam Virmani is director of the Kabir Project. Started in 2003, the Kabir project brings together the experiences of a series of journeys in quest of this 15th century mystic poet in our contemporary worlds. It consists of 4 documentary films, 2 folk music videos and 10 music CDs accompanied by books of the poetry in translation.The films journey into contemporary spaces touched by his music and poetry. In her films, Shabnam juxtaposes the urban and the rural, the Indian and the foreign, the classical and the folk, and the secular and the sacred, in their many approaches to Kabir and the search for a universal voice. 'Had-Anhad' was a joint prize winner at the recent documentary film festival, One Billion Eyes, organised by Prakriti Foundation in Chennai.
Previous Endeavors:
( Extracted from the Filmography section of Wikipedia profile)
Ref URL : http://en.wikipedia.org/wiki/Shabnam_Virmani

"Bol" (Speak!)
Series of 8 public service 60-second films on domestic violence, 2001 Star News, Star Gold, Sony and Sahara TV telecasts in March 2002.

"Aapno Avsar"/ It 19s our turn now!
58 min. Gujarati, English, Hindi. 1999, In November 1997, over a thousand elected panchayat women got together for 3 days in Ahmedabad - to share their experiences of power. While documenting this event, this film simultaneously explores the strengths of women 19s governance, as well as the problems they face in moving from the private to the public domain. This event was organized by the Working Group for Women 19s Issues-Gujarat (WGWI-G), a network of over 60 NGOs working on women 19s issues at the grassroots.

"When Women Unite:The Story of an Uprising/Aadavallu Ekamaite"
80 min. Telugu, English, Hindi, Gujarati. 1996, This film investigates one of the most extraordinary social uprisings of modern India 14a rural women 19s uprising against state supply of liquor in Andhra Pradesh that sustained for three long years, eventually forcing the state government to declare Prohibition.

"Tu Zinda Hai!"/ To Be Alive!
50 min. Hindi, English. 1995., This film profiles the women activists of Ekta Parishad, a mass-based organization working in the villages of Madhya Pradesh. It explores their self-perception and changing identities as women in our society. It is a tribute to their spirit of struggle and their will to survive the backlash of the patriarchal structures whose authority they challenge - be they the abusive husband, the liquor don, the village landlord or the 1Csarkar 1D (government).

"Umati Umang ni Damri"/Hopes Soaring High
53 min. Gujarati, Hindi, Marathi, English. 1994, In an environment plagued by drought, debt, poverty and upper caste domination, this film chronicles the story of hope 14the story of the women of two villages in Gujarat who came together to form a savings group. These women themselves re-enact the story of their growth in this film, which is being used to inspire rural women around the concepts of savings, credit and collectivization. The women 19s groups are supported from inception by Mahiti-Utthan.

"Basti se Basti tak"
45 min. Hindi, English. 1993, This is a video film for community organizing made collectively with and based on the experiences of Shakti Mahila Sangathan, a women 19s group working in an urban slum called Millatnagar in Ahmadabad. The women have used the film as a medium to portray their understanding on health, basic amenities, domestic violence and savings.

"Ek Potlun Beek Nu/ A Bundleful of Fear"
45 min. Gujarati, Hindi. 1992, This is a dramatized narrative of 5 village women and their struggle for gender justice. It is about violence against women, the psychological effects of patriarchy and women 18s struggle to conquer fear. It was conceptualized and scripted with women field workers of Mahila Samakhya, Baroda, who had all experienced violence in their own lives or were involved in collective attempts to resist it. These very women have also acted in this film.

"Kali Kem Mari?"/ Why did Kali die?
37 min. Gujarati, English. 1992., The death of a village women, Kali, triggers off a reflection process in the mind of a women health worker. In the course of the film she slowly understands the complex socio-cultural, economic and gender factors that result in the high incidence of maternal mortality, and through it an understanding of her own role as a field health worker.
My Films:
Kabira Khada Bazaar Me...

Had Anhad: Journeys Wi...

Koi Sunta Hai: Journey...

Chalo Hamara Des: Jour...
FLAGS:
RATINGS: This film needs help to be rated.
Would you rate it now?
Read reviews about this film
WRITTEN AND GIFTED BY THE SUPPORTIVE AUDIENCE.