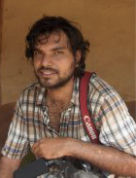 Greetings!
Thank you for visiting me here.
Hoping for your support to my work and dream to continue...
About Me:
My Life Story in Short:
Independent Filmmaker.
Current Project/Need:
Working on a documentary in the making for last 7 years about various struggles of people to save their resources in Orissa.
www.youtube.com/niyamgiri
www.youtube.com/samadrusti

Also, currently making an independent feature titled 'PSYCHEDELHI'.
https://vimeo.com/29603482
Previous Endeavors:
Documentaries & campaign films -
The Lament of Niyamraja
Shot Dead for Development
Niyamgiri - The Mountain of Law
The Human Zoo
The Real Face of Vedanta
The Forest Speaks
Madhyantara Series
Association (people/orgs):
http://www.samadrusti.com/
Past Inspirations:
RITWIK GHATAK-FERNANDO SOLANAS-JEAN LUC GODARD
Present Interests:
NATURE-SOCIETY
My Films:
The Lament of Niyamraj...
FLAGS:
RATINGS: This film needs help to be rated.
Would you rate it now?
This film is programmed to be screened on:
(12:00 AM GMT)
This festival is programmed daily.
Watch this film any time within 24 hours.
This festival is programmed daily.
The last screening of this film was on .
Festival closing date is January 5, 2017.
You may find this film in the archive
which will be relaunched here at this venue,
on the festival closing date.
Read reviews about this film
WRITTEN AND GIFTED BY THE SUPPORTIVE AUDIENCE.