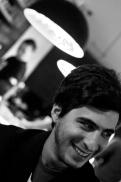 Greetings!
Thank you for visiting me here.
Hoping for your support to my work and dream to continue...
About Me:
My Life Story in Short:
ALİCAN DURBAŞ

born in İstanbul, Turkey

18.02.1986

adurbas@gmail.com

EDUCATION

2011 – ……. Master of Art Management in the Institute of Social Sciences at Yeditepe University, İstanbul, Turkey (M.A.)
2005 – 2010 Bachelor of Fine Arts in Art Management at Yeditepe University, İstanbul Turkey (M.A.)
1998 – 2005 İstanbul Saint Joseph Private French High School
FILM PROJECTS

2012 Back stage director, Production of a thirty minutes length film documenting the process of making of the film "Hükümet Kadın" directed by Sermiyan Midyat.
2012 Turkey Prop Storeman in the props department of the B23 – "Skyfall" 007 James Bond movie directed by Sam Mendes
2011 Production assistant and office assistant director of the film "Taken 2″ directed byOlivier Mégaton and produced by Luc Besson.
2011 Back stage director, production of a series of clips documenting the making of "Hidden Lifes" a feature length film directed by A. Haluk Ünal.
2010 Director of two short films "Side by Side" and "The Boat" in "1001 Istanbuls in My Binoculars" which is a film workshop project to be directed by "Işıl Özgentürk Film Workshop" and supported by Istanbul 2010 European Capital of Culture.
2010 Production of a film documenting the process of "City and Art" Project which is funded by the EU and is implemented by Mimar Sinan Fine Arts University under the coordination of Secretariat General for EU Affairs.
2008 Cameraman and production asistant at CREATİME media and production company.
2007 Second director of photography and footage researcher in the documentary film "Yesemek Historical Open Air Museum and gatekeeper Ali Çiçek" directed by Işıl Özgentürk and supported by the EU and the GAP.
WORKSHOPS AND COURSES

2011 5th Sarajevo Talent Campus which took place in co-operation with 17th Sarajevo Film Festival and Berlinale Talent Campus. 24–30 July 2011
2010 – 2011 Atıf Yılmaz Film Studio
2009 !FZINE Film Journalism Workshop hosted by Nisi Masa Turkey within the !f Istanbul AFM International Independent Film Festival. 12–22 February 2009
A directing workshop with Reha Erdem within "Lets Talk Cinema III, Kars – 2008″ in the 14th Festival on Wheels. 7–13 October 2008
2008 – 2009 Certificate of digital film making in Digital Film Academy, Istanbul, Turkey
PANELS AND CONFERENCES

2009 project asistant at 1. International Artist Initiatives İstanbul Meeting. 02-06 October 2009
2008 project assistant at at ICCPR 2008 International Conference on Cultural Policy Research. August 2008
2006 I was project asistant at Margins of Europe" Informal European Theatre Meeting at Culture Forum İstanbul with European Cultural Association
My Films:
Symbol of Immortal Cri...
FLAGS:
RATINGS: This film needs help to be rated.
Would you rate it now?
This film is programmed to be screened on:
(12:00 AM GMT)
This festival is programmed daily.
Watch this film any time within 24 hours.
This festival is programmed daily.
The last screening of this film was on .
Festival closing date is January 5, 2017.
You may find this film in the archive
which will be relaunched here at this venue,
on the festival closing date.
Read reviews about this film
WRITTEN AND GIFTED BY THE SUPPORTIVE AUDIENCE.