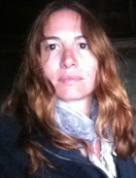 I invite you to watch Diary of a Sorceress. This documentary is about my personal experience with Earth-based spirituality and how it changed my perception of the world. Earth based spirituality is a spiritual and religious worldview that puts the Earth in the center of the spiritual practice. This documentary dispels misconceptions about witchcraft and presents witches as followers of pagan religions. Thank you and I hope you enjoy it!
About Me:
My Life Story in Short:
I was born close to the sea and raised in Rio de Janeiro. I studied law and went to film school in Brasil, Spain and New York, where I directed my first shortcut "Rose". In 2005 I directed the awarded short "Ahora serás catigada", of lesbian thematic. And in 2012 my first animation short called "Halloween" was awarded in Spain and in the USA. Diary of a Sorceress is my first documentary.

The project started with an investigation about witches but turned into a cronic in first person: I started because I wanted to investigate about witches, but then I found out I was one of Them.

Filmed on location at Glastonbury (England) and Spain, Diary of a Sorceress traces the path of the filmmaker into her path as a Wiccan -- and speaks to the important messages of self-empowerment and the reclaiming of personal agency that this movement provides. Featuring interviews with Starhawk, Morgaine Sheluxx, Halo Quin, Guadalupe Cuevas, Javier Artime and many others, Diary of a Sorceress is a heartfelt and sincere expression of the importance of the lessons Wicca and Pagan traditions have to bring to broader society.
Past Inspirations:
David lynch and Bergmanb
What is Creativity?
Freedom
My Films:

FLAGS:
RATINGS: This film needs help to be rated.
Would you rate it now?
This film is programmed to be screened on:
(12:00 AM GMT)
This festival is programmed daily.
Watch this film any time within 24 hours.
This festival is programmed daily.
The last screening of this film was on .
Festival closing date is January 5, 2017.
You may find this film in the archive
which will be relaunched here at this venue,
on the festival closing date.
Read reviews about this film
WRITTEN AND GIFTED BY THE SUPPORTIVE AUDIENCE.